POLYLEVEL INJECTION CONCRETE LIFTING UTAH
NOTICE: We no longer offer poly injection lifting due to unreliability and safety reasons. We use cement slurry (Mud Jacking) as our primary lifting method.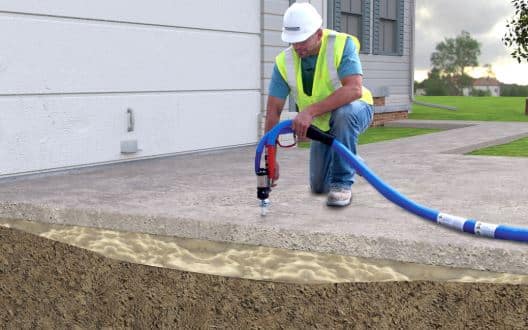 What is a polylevel injection?
Polylevel injection is the most durable method for repairing roadways, sinking and bridge approaches. Its benefits are enormous and surpass all other alternative options that do not work.
In the past alternative methods of repairs like diamond grinding or removal and concrete, replacement offered temporal solutions and is time-consuming, costly and rarely addresses the fundamental cause of the problem-subsoil under the slab.
PolyLevel system Utah is capable of effectively correcting problems faster and efficiently without disturbing the public.   Polylevel systems have an advantage over other alternatives because it cures relatively faster, have a higher compressive strength and can be effectively installed. You don't need to totally block the roadway or bridge allowing traffic to flow continuously without any disruption.
PolyLEVEL Applications
Application in commercial buildings or industries
It's common to notice concrete flexing or displacement in various warehouse environments, resulting from minor voids beneath the slab or underneath control joints. This can end up creating an unsafe working environment and can pose maintenance problems with equipment. Normally voids can be caused by traffic flow of heavy equipment together with poor compaction of soil beneath the slap. The negative effect of this is; the slap flex or settle, displacement occurs at joints and sag begins to sag within the concrete, disrupting the efficiency and productivity of the warehouse.
The PolyLevel system mainly provides a superior solution to fill voids or empty spaces, compress the soil below the slab and raise settled concrete.  Polylevel offers the most efficient solution with little obstruction of workflow because, its cure time is fast, the compression strength is high and minimal obstruction of traffic occurs during installation.
In most commercial properties and office buildings in Utah, concrete settlement and uneven floors may pose a safety risk. Regardless of whether construction took place on a poorly compacted fill, the infiltration of water under the slab cause soil erosion or air leakage from the deck below the concrete.
This results in shrinkage and settlement causing significant damage to the finishes of the interior structure.
Most often, the damages can be so serious that it ceases the operation of businesses unless the problem is corrected.
The Polylevel system offers several benefits over traditional methods of repairs like mudjacking or tear out and concrete replacement. Characteristics such as the ability to access tight areas, fast cure time and precise raising ability, provides the Polylevel system with unbeatable superior solutions. Unlike other systems, the Polylevel system can be fully installed within a few days or hours without removing finishes. Thus tenants can continue to work with little or no disturbance of their regular business operations.  This allows the tenants to continue working with little or no disruption to normal business operations.
Airports, Railroads & Infrastructure Repairs
One of the most pressing and common problems we face is regular maintenance of aging infrastructures. Our airports, sewer systems, roadways and railways cannot function effectively if no efficient rehabilitation system is put in place. In the past, these structures were repaired by replacing the old concrete with new. This method is expensive, time-consuming and disturbs the general public transactions.
The PolyLEVEL method provides a superb solution to aging facilities issues that serve the public while repairs are being done. This system offers safe and efficient repair to leaking waters and sewer lines. Since it has non-invasive, adhesive and waterproof features.  It's also preferable to use it when repairing sinking concretes compared to other alternative methods like gout injection and tear-out. The system offers a cost-effective solution to railway facilities without disturbing service levels, due to its high compressive strength, fast cure time and non-invasiveness.
Pipelines
The key factor to consider when constructing a pipeline is ensuring that appropriate water control measures are put in place. PolyLEVEL trench breakers water stops should be installed before the trench is filled back. This is simply to control the flow of excess water through the porous soil material and stabilizing the pipeline. PolyLEVEL trench breakers prevent soil erosion within the trench, protecting the native soils and sediments from being washed away.