POLYURETHANE FOAM CONCRETE LIFTING UTAH
NOTICE: We no longer offer poly injection lifting due to unreliability and safety reasons. We use cement slurry (Mud Jacking) as our primary lifting method.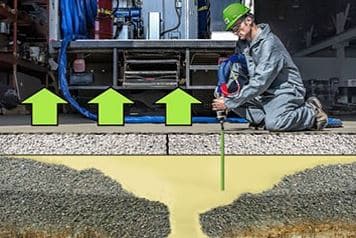 What is a polyurethane foam?
Polyurethane is amongst the best synthetic polymer of the plastic family, broadly used in coatings, fibers and elastomers and is a adhesive foams. Polyurethane foam is made from polyurethane waste form district heating tubes, refrigerator, vehicles and others sources. Polyurethane foam has properties such as; high thermal conductivity, sound insulation and lightweight making it suitable for use in construction industries.
How is polyurethane made and used?
Polyurethane foam is polymer is a product of combining polyol and an isocyanate. Polyurethane is an alcohol-based hydroxyl compound which reacts with isocyanate to form a product known as polyurethane. The rubber, foam and resins property of polyurethane is determined by the proportions of the substances reacting.
Normally Polyurethanes is liquid but you can have it a spray or foam.  Polyurethane resins and rubber have defined ratios that must be used during mold making. Polyurethanes foams mix with no difficulty and can be poured easily.
Polyurethane foam has waterproofing properties. It's very necessary to Invest in a waterproofing system for your home particularly if your hose has a basement or cellar. The state requires that before you complete your home you must install a waterproofing system. Waterproofing system reduces the risk of your being damaged by water. A high-quality waterproofing system not only minimizes water damage but also prevents the growth of black molds in damped areas. Factors like climate, weather, terrain, and landscape determine the use of a waterproofing system
There are several reasons why our basement leak. Some of these reasons include;
Build up of water in cracks of walls and floors,

Improper installation of footer tiles,

Leaks from windows in the basement

Build up of pressure from walls and floors,

Leaks from sweating of pipes in the basement
Reasons for using polyurethane foams
When water condenses on your basement or your basement leaks, the dead giveaway is referred to as mold. It is very necessary to get an experienced professional those in Utah to install waterproofing systems to prevent mold in your home.
Waterproofing also prevents the roof from leaking. The most common method of waterproofing roofs is spraying with polyurethane or using it to mix concrete. This has been the leading choice for roofs for over 35 years. The reasons why many homeowners prefer using polyurethane waterproofing foam include; it is lighter in weight, it possesses waterproofing properties and insulation properties, its compressive strength is high and its durable and effect is last longer.  
When the cracks and crevices of your roof are sprayed with Polyurethane foam, the foam expands more than 30times its original size and desiccates into a very hard compound. The foam takes a very short time to dry, providing a durable, weather resistant coating. This material can be used for any job, regardless of its size since it is light in weight.
You must prepare your roof before applying the polyurethane-waterproofing compound. In order to properly apply polyurethane foam, your roof has to be clean, dry and free from any environmental contaminants. Generally, the durability of the polyurethane foams is about 10 to 15 years. However, findings have shown that they can last as long as 15 years.
How safe is polyurethane foam?
Most often customers are not aware of the environmental and safety hazard of using polyurethane foam in concrete works.  This Polyurethane foam is a sticky petroleum-based substance that can stick on to any material and the skin as well. The major components of Polyurethane foam comprise of well known carcinogenic substances that are classified as toxic by the NIST, OSHA, and EPA.
The health and safety of our employees are as valuable as the quality of our of the services provided to the customer. Depending on the polyurethane foam as a way out creates great worries when we think of the safety of our employees and the quality of production. Avoiding toxic substances during work helps ensure the health of our workers.