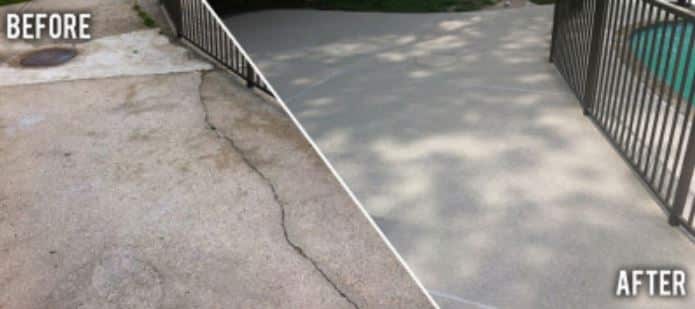 Concrete is a resourceful substance in construction. It is always used for flooring, walls, garages, patios, porches, and driveways. However, it is also susceptible to damage over time due to wear and tear, bad weather etc.
Several types of concrete repair are needed either for safety reasons or to extend the life of concrete. Various types of concrete repairs can be carried out. However, the complexity of the work and the amount of labor force determines the cost of concrete repairs.
To get the best concrete repairs, you need to know the type of concrete grade and the exact type of resins or setting agent. Temperature and climatic conditions influence the mix of concrete used for repairs. When the weather is colder, the mix is stronger.
Cracks in any construction are very unattractive and risky.  Concrete cracks may result from problems during mixing. However, natural disasters or damage of any type can lead to cracks. Cracks or crevices can become very risky if they are left unrepaired.  Cracks cause serious damages to a built section like making a foundation weak and moisture leakage causing crevices on the walls and pillars etc.
Concrete Lifting Utah has a team of professional technicians that can deliver superior quality services on the concrete foundation of residential, industrial and commercial constructions. These technicians use modern and advanced techniques to professionally fill cracks of the concrete built.
The technical mode of concrete crack repair
Single and simple cracks can have an effect on the firmness of the building, therefore getting them filled within the required period is very important. Ignoring this can result in a severe situation. Before you repair you need to detect the damage. Concrete Lifting Utah has talented and experienced technicians who can detect even the finest crack. They're out to provide the best solutions to customers. These technicians will effectively treat and fill concrete cracks in constructions.
Normally polyurethane injections are used to fill cracks in the initial stage. This method assures complete treatment of cracks.
The best ways of sealing concrete cracks
Cracks are hints that show that the concrete is getting weak. Mistakes on window ceilings could result in blocking and jamming of window panes and breaking of glasses.  Cracks usually originate from weak points and this can become severe with time. Most often cracks near the door frame, floor entrance etc, are not appealing and can pose a safety risk.
Concrete Lifting Utah technicians used more advanced techniques to cure cracks by injecting the repairing substance into the cracks to seal the crevices.  This treats the patch and concrete damages. Utah technicians effectively treat cracks at an affordable rate.
Repair can be done with a variety of organic compounds. The cracks width and effectiveness of the method used in treatment affects the curing of cracks.
Utah team of experts will effectively check to find out if you would like to use a particular material for your repair but can affect the one that is durable.
The time to complete the job is determined by the complexity of the job. However, you need to know some basic guideline time frames before booking for repairs. The epoxy method is the most convenient way to deal with milder cracks, while the gun method or spring boosted a machine can be used to inject material faster into crevices.